Are you looking for a trusted and reliable Woking taxi company? Look no further than Pro Cars Woking! Call us now on 01483 773531 to book a taxi ASAP or whenever you need it. Or, if you prefer, use our online booking system to book your taxi ride for a time that suits you. We are known in the local area as the Woking taxi company to call when you need a lift – our dispatch time is usually as little as 5-10 minutes and we will get you quickly and safely to your destination.
Whether you are travelling for business or pleasure, we are the Woking taxi company that can help you get from a to b in a flash. You have a few options available to you when looking to travel around Woking. We believe Pro Cars Woking taxi is the most efficient, safe and comfortable form of transport. It allows you to avoid the hassle of catching a bus or a train, which may not depart at a time that suits your journey. It also means that you don't need to worry about where you'll park your car – Or, even worse, picking up a parking fine! Call Pro Cars Woking today, the number 1 Woking taxi company and speak to one of our friendly operators.
Woking taxi company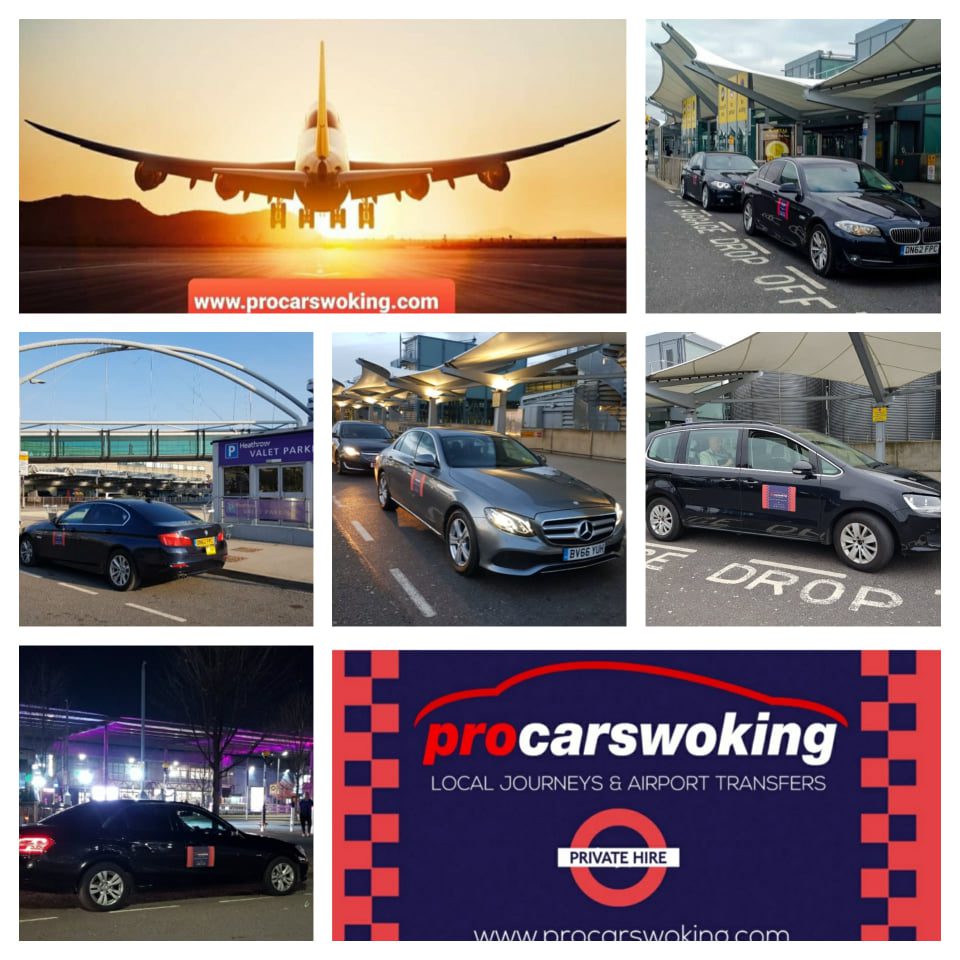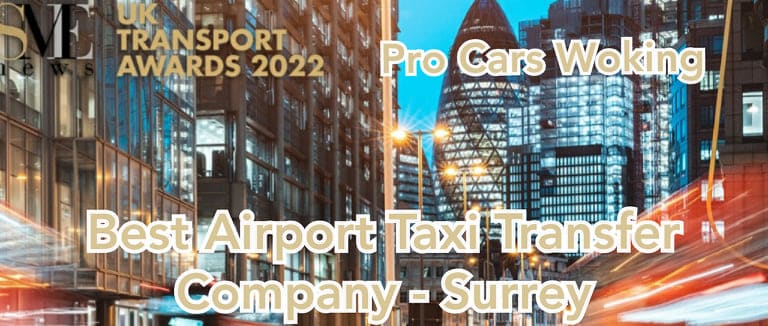 Company for Airport Transfers
As a leading Woking taxi company, we make many Woking airport transfers journeys to and from the nearby airports. Such as Heathrow, Gatwick, Stansted and Luton. If you wish to arrive comfortably, in style and on time, make sure you choose Pro Cars Woking. We understand that airline travel can sometimes be stressful, but we will do all we can to ensure that the journey from your home to the airport is smooth and relaxing. Our regular clients love knowing that they will make the check-in for their flight in great time, that their luggage is safe and they can look forward to the journey ahead. Arriving relaxed and in plenty of time helps to relieve the stress of airline travel!
If you need a Woking company for an airport transfer, make sure we are the ones you call! You won't find a better, safer or more efficient service anywhere else. Our Woking airport taxi transfer services are competitively priced and include all airport services. Such as flight tracking, meet & greet (driver will wait at arrivals with a name board) and half an hour of free waiting & parking time. Have a look at our pages Woking taxi to Heathrow or Woking to Gatwick taxi.
Finest Fleet of Cars & Drivers
We are a Woking taxi company with a diverse fleet of cars available for you to choose from, to ensure that we can accommodate all of your needs. Choose from our Estate Cars, Saloon Cars, Executive Cars or even a 7 seater if there is a group of you travelling together.
We have a highly efficient fleet made up of well-trained & CRB checked Woking taxis drivers. Pro Cars Woking are dedicated to providing the best customer service, focusing on quality over quantity and very often going the extra mile for each of our clients. Pro Cars Woking is an Award Winning Company, for "Most Trusted Taxi Hire Company Surrey -2020" & Best Airport Taxi Transfers – Surrey 2022.
Our airport transfers, local journeys and business events services are highly rated and are the ideal choice when it comes to the most advantageous prices and the best quality service. If you're looking for a Woking taxi company, get in contact with our team today! Call our Woking taxi service office 245 hours a day. Call now our Woking taxi number on 01483773531
Woking Taxi Firms
OUR ONLINE BOOKING SYSTEM IS DOWN FOR MAINTENANCE.
WE ARE COMING BACK SOON WITH A BRAND NEW & FASTER SYSTEM.
FOR BOOKINGS PLEASE CALL OUR OFFICE!
In order to make sure we have an available disinfected company car for you A MINIMUM OF 24 HOURS' NOTICE is required for online bookings. For immediate or same-day bookings please call 01483 77-35-31
---
The quickest and easiest way to book a Woking taxis car with Pro Cars Woking is to simply call us. However, if it's more convenient for you, you may also book via email or by our online booking system. One of our representatives will call you back to confirm your booking in a few hours.
---
Corporate meetings & events
Quick Airport Transfers
We Cover Special Events
Meet and Greet
Cover all locations from Woking.
Book Online anytime & anywhere.
Get Instant Quote.
Elite Prestige Cars
Woking taxi service, a taxi company providing cars to London City Airport.
Great taxi service 24/7, to all major UK airports, the best taxi in Woking.
Our Woking cars and Woking cabs have Woking taxi drivers for every taxi service occasion.
Excellent taxi service and taxi in Woking with Pro Cars. Providing Woking cars and Woking cabs for Heathrow airport and Gatwick airport. Organising business travel and airport transfer service, our airport taxis have all your business to major airports covered. With friendly service & professional drivers, our taxi firm car service is class service.
Book taxis & airport journeys for corporate clients, local taxi & long distance journeys and business travel with the most efficient routes for excellent service & best price. Call our car service and taxi services on 01483 773531.
Reliable Taxi Company
A reliable taxi company in Woking would typically have the following characteristics:
Booking & Payment Woking Taxi
Pro CarsWoking taxi service provides local taxi trips, airport taxi & City travel with well maintained vehicles, experienced drivers & competitive prices. All drivers from our taxi firm will give you the best service and hassle free for efficient travel & comfortable journey. Our professional driver will take efficient routes, monitor flight arrivals times, also if required a meet and greet service or courier service.
Airport taxis like London Heathrow airport transport are verified for flight arrivals times, with executive cars & best prices.
Best cabs & airport taxi for a smooth journey. Courier services are provided also. Pro Cars Woking taxi service 24H.
For more information, bookings, payments and quotes, please contact our dedicated operators 24 hours a day and we will be happy to help. Call our company office phone line on 01483773531.  Alternatively, you can drop us an email at: [email protected]
Best Taxi Company In Woking
24 Hours Woking Taxi Company