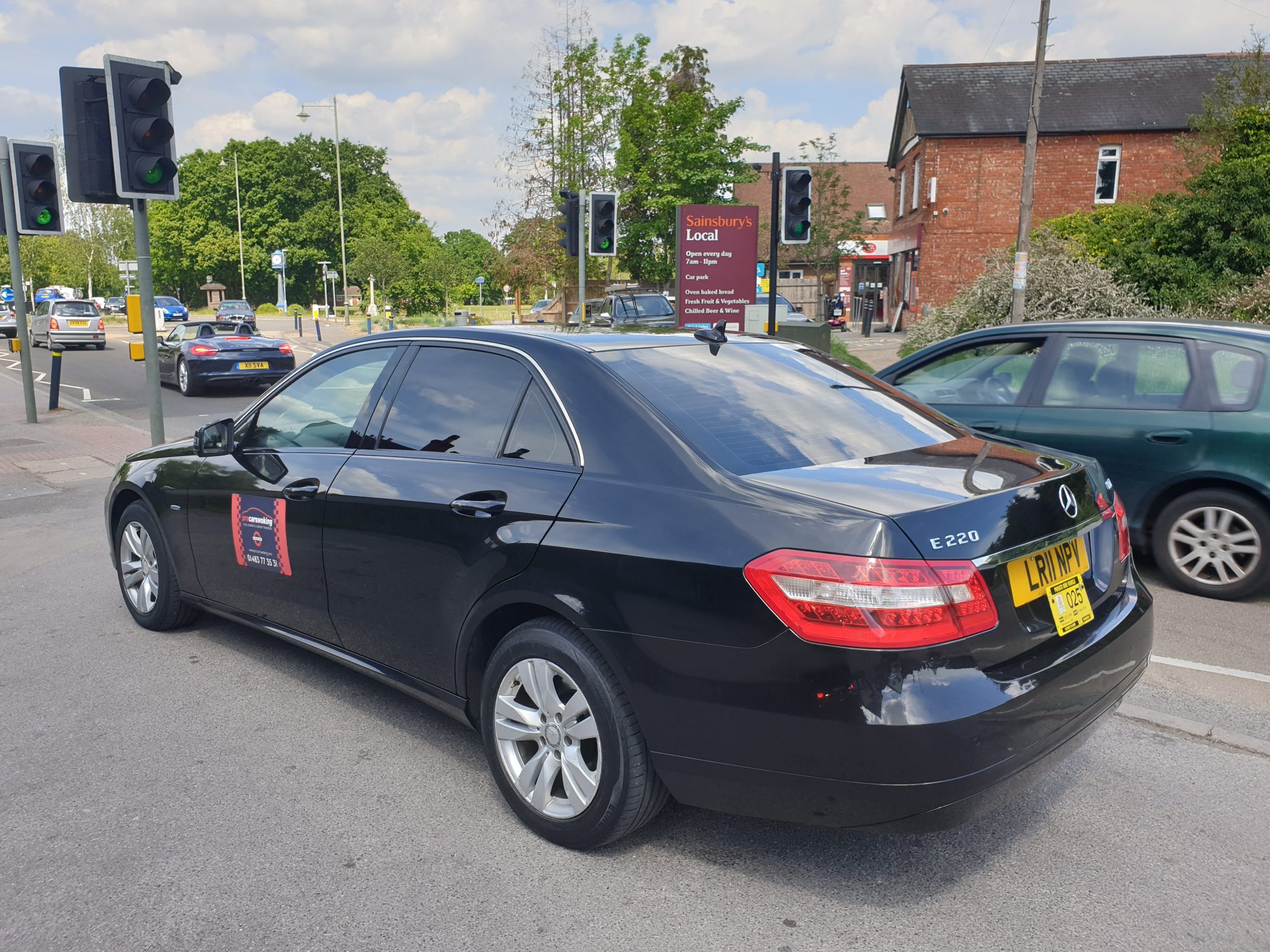 Cabs To Woking
Our Woking Cabs Are More Than a Taxi Company
When you ride with our cabs Woking you can be assured you are being provided with the following:
A personal, regulated, safe service 24/7

A friendly and polite driver of our one of our Woking cabs

Easy booking system whether it's over the phone or our online booking form

An immaculate interior in our luxurious Woking cabs

Arrival five minutes prior to the booked time

Meet and greet with our stylish airport transfers

Free 30 minutes waiting time & flight monitoring

Extensive knowledge of road network around Woking

A full service including carrying your luggage

Today's newspaper in each Woking cab

A reliable service for special events and functions

Account holder options

Credit card payment
We make sure that all our team go the extra mile for our customers. Remember, if you're looking for Woking cabs, then you need to call and book us now.
Cabs In Woking
If you're looking for cabs, Pro Cars are the best option!
We are a professional and reliable service, offering a range of cabs.
Taxis in Woking for any journey. Whether you are looking to be taken from point A to point B or arrive in style, we are the best choice. With years of experience, our Woking cabs taxi firm will be sure to suit your purpose. Read our excellent reviews on Trustpilot, Tripadvisor, Google, Facebook and more. For more information, please call our office & our friendly operators will be happy to help.
Call Now Pro Cars Woking Cabs 24 Hours A Day
Where can I get a cab too?
At Pro Cars Woking, we understand that our great customers are always on the go and need to make sure they get there fast and easy! 
Local Cabs Journeys
We offer local journeys to popular destinations across the Woking and Surrey areas. Hospital cabs and Train station taxis,
For a full breakdown of our prices, feel free to look at the following:
Our pricing table for estimates.
We provide local cabs & taxi services in Woking, St. Johns, Knaphill, Hook Heath, Bisley, Brookwood, West End, Chobham, Horsell, & Worplesdon.
Other Areas
Taxis West Byfleet, Pyrford, Ripley, Byfleet, Send, Clandon.
Basingstoke, Bagshot, Weybridge, Chertsey, Guildford, London,
Woking Cab Airport Transfers
If you're looking for a Woking cab to take you to the airport, we specialise in providing the following:
Fast and reliable airport transfer & shuttle services 24H.
We cover all major airports like Gatwick Airport & Heathrow airport taxi, Stansted taxis and Luton airport.
In addition, we also have a meet and greet service. Complimentary 30-minute waiting time for your flight to make sure your pickup is smooth from start to finish. So if you're looking for a fast, reliable Woking cab service, call us now.
Read about Gatwick Drop Off Charges.
Woking Airport Cabs
Woking Cab
Pro Cars Woking is a leading taxi and cab service provider in the Woking area. Our company is dedicated to providing reliable and efficient transportation services to both residents and visitors. Our fleet of vehicles includes a wide range of cars, ranging from traditional black cabs to spacious minivans, all of which are well-maintained and equipped with the latest technology to ensure a comfortable and safe ride.
Our team of experienced and knowledgeable drivers are always ready to take you wherever you need to go, whether it's for a local pickup or a long-distance trip. They are friendly, professional, and knowledgeable about the local area, so you can be sure that you'll arrive at your destination on time and in comfort. Cabs to Woking or Cab from Woking!
Pro Cars Woking Cabs is a premium taxi service provider in Woking, UK. With a focus on providing comfortable, safe, and reliable transportation, we have become the go-to choice for both locals and visitors alike.
Our fleet of cabs in Woking consists of only the latest models of cars, all of which are regularly serviced and maintained to ensure the highest standards of safety and comfort. We understand the importance of punctuality, and our drivers are trained to arrive at your pick-up location on time, every time.
At Pro Cars Woking, we understand the importance of providing high-quality services at an affordable price. That's why we offer competitive prices for all our services, and we always strive to provide the best value for money. Whether you're a local resident or a visiting tourist, you can count on us to provide a top-notch transportation service at a price that suits your budget.
So if you're in need of a cab in Woking, look no further than Pro Cars Woking. We guarantee a safe, comfortable, and enjoyable ride every time. Contact us today to book your next journey! Woking taxis and Woking minicabs with a reasonable Woking taxi price.
Cab Woking
OUR ONLINE WOKING CABS BOOKING SYSTEM IS DOWN FOR MAINTENANCE.
WE ARE COMING BACK SOON WITH A BRAND NEW & FASTER SYSTEM.
FOR BOOKINGS PLEASE CALL OUR OFFICE!
To make sure we have an available disinfected Woking cabs car for you, A MINIMUM OF 24 HOURS' NOTICE is required for online bookings. For immediate or same-day bookings, please call 01483 77-35-31
---
Corporate meetings & events
Quick Airport Transfers
We Cover Special Events
Meet and Greet
Cover all locations from Woking.
Book Online anytime & anywhere.
Get Instant Quote.
Elite Prestige Cars
Book now best taxi service 24/7
Woking Cabs & Airport Transfer Cab-Pro Cars Woking Taxi Service
Woking Cabs & Airport Cab Transfers, with comfortable cars. Online booking or over the phone, 24 hours. Call now for a reliable Woking taxi.
Our Woking taxi to London city airport will take 60minutes. We are providing executive cars, with great Woking taxi drivers.
A reliable taxi company for all your business. Professional drivers with friendly service & executive cars for airport journeys. We are covering all major airports such as London Heathrow & Gatwick airport. Our Woking taxi service will monitor flight arrivals times. We can provide a meet and greet service on request. Have your airport pickups with excellent service. London Luton airport and more, call for a quote. Airport taxis to all major airports. Pro Cars Woking taxi!
Woking taxi service will also cover local journeys. Trains Stations, hotels, restaurants, hospitals, or local taxis. For a taxi in Woking, call our taxi company now. We are here to help and dispatch your car in 5 minutes. Fast booking with Pro Cars, taxi in Woking.
We are organising business travel with a professional service. Book our Woking cars for efficient travel with reasonable prices 24H. Enjoy our fantastic service with well-maintained vehicles.
The best service in town, and we accept card payments! Our services have the best price and an excellent Google rating. Have the experts on transport make your journey safe and smooth for every occasion.
Pro Cars, more than a Woking taxi..!
Woking Cabs To Trains Stations, Hotels, Restaurants, Hospitals, Airports, Distance Cabs Or Local Cabs