Taxi Near Woking
Taxi near me – taxi near you – taxi near Woking 24 hours a day
Responsible travel: Coronavirus (COVID-19)
Our great big mission has always been to keep our towns and cities moving safely and efficiently. COVID-19 means we must all stay safe and follow the legislation.
Taxi Near Me
Taxis Near Me
Are you looking for a taxi near Woking, Surrey? Look no further than Pro Cars Woking! We are a fully licensed, well established private hire Woking taxi company with a reputation for efficiency and reliability. Choose from our fleet of cars for your taxi near Woking, wherever it is you may be going so you can arrive in comfort and style. Whether you are travelling for business or pleasure, you can rest assured that with Pro Cars Woking you will receive an excellent level of service and you'll arrive wanting to travel with us again in the future! Pro Cars Woking is an Award Winning Company, for "Most Trusted Taxi Hire Company Surrey -2020".
When planning a trip near Woking, whether it be organising business travel or just getting from a to b, we believe that a taxi is the most convenient form of travel. You can avoid the hassle of catching public transport or worrying about where to park your car – Or, even worse, a hefty parking fine! A taxi near Woking allows you to sit back and relax in the knowledge that you'll be arriving at your destination in good time with nothing to worry about. If you need a reliable taxi from Woking, Knaphill, West End, West Byfleet, Ripley, Send, you find the best company. So if you need to book a local taxi to Woking or an airport taxi transfer, we are the right choice. Make your booking with Pro Cars for the best local journey and airport transfers. Get Woking taxis to Heathrow airport or Woking taxis to Gatwick airport 24 hours a day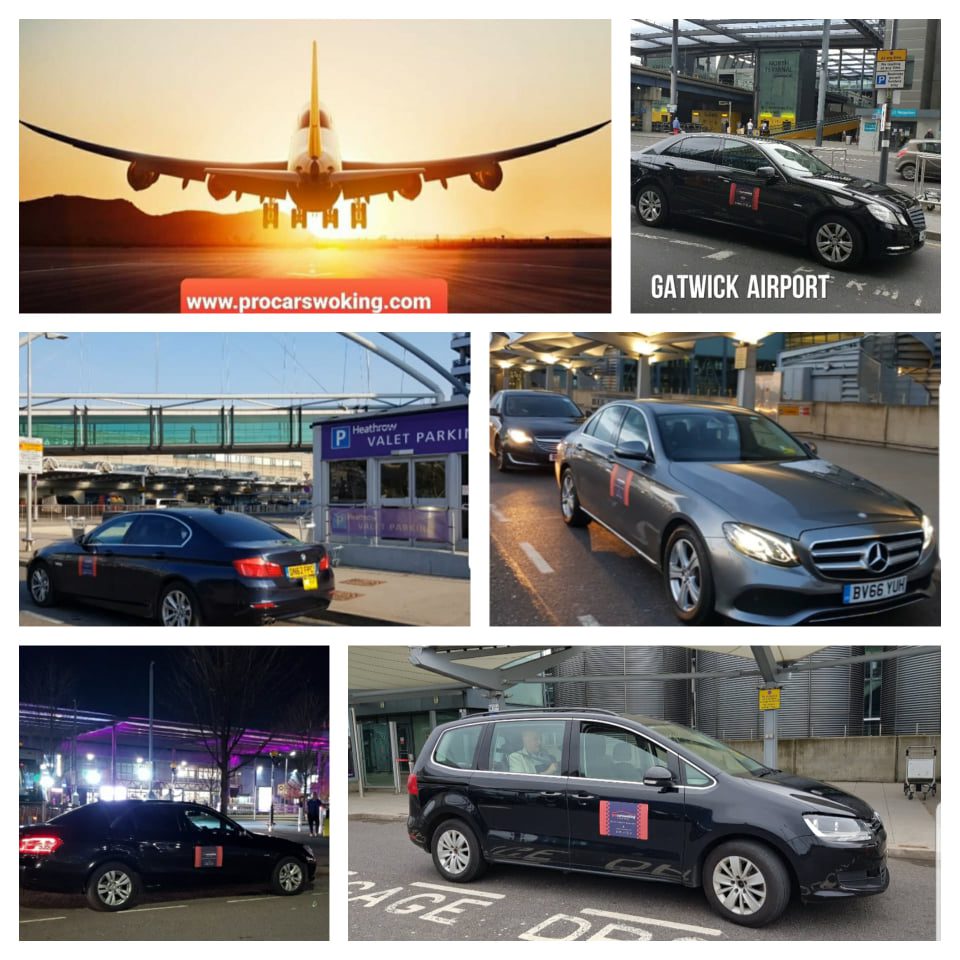 Near Woking Taxi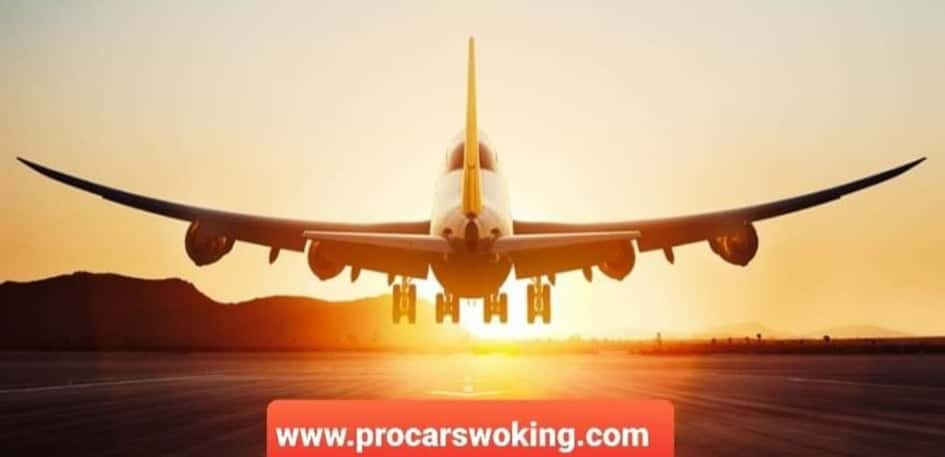 Airport Transfers Near Woking
As Woking's number 1 airport taxi service, we frequently make journeys to nearby airports including Heathrow, Gatwick,  Stansted and Luton. Our most regular journey is Woking taxi to Heathrow, but also a taxi to Gatwick. Airline travel can be stressful, but we will make sure that the journey from your home to the airport is smooth, comfortable and relaxing. Our clients enjoy knowing that they will make the check-in for their flight at a great time, that their luggage is safe and they can look forward to the journey ahead. So book your Woking taxi with Pro Cars Woking. Our great reviews are the best way to feel safe and confident with our company services.
If you need cabs near Woking to any of the nearby airports, get in touch with Pro Cars today. Our airport taxi transfer services are competitively priced and include all airport services such as flight tracking, meet & greet (driver will wait at arrivals with a name board) and half an hour of free waiting & parking time.
Near Woking Taxis
Choose Your Best Cars
We have a fleet of cars available for your taxi near Woking, to ensure that we can accommodate all of your needs. Choose from our Estate Cars, Saloon Cars, Executive Cars or a 7 seater if there is a group of you travelling together.
We have a small yet highly effective fleet, made up of well-trained & CRB-checked Woking taxi drivers. Pro Cars Woking are dedicated to providing the best customer service, focusing on quality over quantity and very often going the extra mile for each of our clients.
Our airport transfers, local journeys and business events services are highly rated and are the ideal choice when it comes to the most advantageous prices and the best quality service. If you're looking for a cab close to us, then get in contact with our team today.
Near Taxi
Booking your taxi near Woking today is easy – simply call us or fill out our contact form online and the wheels will be in motion! Book with confidence with a reputable local taxi company that has been providing taxi services near Woking for over 4 years. Call our office on the best Woking taxi number: 01483 773531
Why Choose Pro Cars Woking As Near Taxi Services?
Woking is a vibrant and bustling town located in the Surrey region of England. With its close proximity to London, it is an important transportation hub for both local residents and travellers. Whether you're commuting to work, running errands, or travelling to the airport, having a reliable and affordable taxi service can make a significant difference to your transportation needs. That's why choosing Pro Cars Woking for your Woking taxi service and airport transfers is the right choice for taxis near me location.
Affordability: Pro Cars Woking offers highly competitive pricing for their taxi services and airport transfers, making it an affordable option for both individuals and groups. Their pricing structure is transparent, and they don't charge any hidden fees or surcharges, ensuring that you pay exactly what you're quoted. Whether you're travelling for business or leisure, they have the right solution for you, at a price that suits your budget.
Reliability: With a team of experienced drivers and a fleet of well-maintained vehicles, Pro Cars Woking provides reliable transportation services that you can depend on. They understand the importance of reaching your destination safely and on time, and their commitment to providing high-quality services reflects this. They use the latest GPS technology to track their vehicles and monitor traffic conditions, ensuring that you reach your destination as quickly and efficiently as possible.
Convenience: Booking a taxi or airport transfer with Pro Cars Woking is quick and easy. You can book online or over the phone, and their 24/7 customer service ensures that you can get in touch with them at any time. Whether you're travelling early in the morning or late at night, they are always available to cater to your transportation needs. With their online booking system, you can make a reservation in advance, ensuring that a vehicle is available when you need it.
Comfort: Pro Cars Woking provides comfortable and spacious vehicles, ensuring that you have a relaxing and stress-free journey. Whether you're travelling alone or with a group, they have the right solution for you, with a range of vehicles to choose from, including sedans, minivans, and minibuses. Their vehicles are equipped with air conditioning, comfortable seating, and ample storage space, ensuring that you have everything you need for a comfortable journey.
Safety: The safety of their customers is of utmost importance to Pro Cars Woking. Their experienced drivers are trained to provide a safe and secure journey, giving you peace of mind during your taxi ride. Additionally, their vehicles are regularly maintained and equipped with the latest safety features, ensuring that you are protected at all times. With Pro Cars Woking, you can trust that your safety is their top priority.
Flexibility: Pro Cars Woking offers flexible and customized taxi service and airport transfer, catering to your specific needs and requirements. Whether you need a taxi for a local trip, airport transfer, or long-distance journey, they have the right solution for you. Their airport transfer service provides fast and efficient transportation to and from major airports in the region, including London Heathrow, Gatwick, and Stansted. With their airport transfer service, you can avoid the stress and hassle of public transportation and arrive at your destination refreshed and ready to go.
Professionalism: Pro Cars Woking is a professional and reliable taxi service, committed to providing high-quality services to its customers. Their drivers are well-presented, polite, and knowledgeable, and they have a deep understanding of the local area and its landmarks. With their commitment to professionalism, you can trust that your journey will be enjoyable and hassle-free.
In conclusion, Pro Cars Woking provides affordable, reliable, convenient, comfortable, and safe transportation. Your recommended taxi near me.
Taxi Near
Taxi near me – 24 hours a day – Pro Cars Woking – Always near you!
OUR ONLINE BOOKING SYSTEM IS DOWN FOR MAINTENANCE.
WE ARE COMING BACK SOON WITH A BRAND NEW & FASTER SYSTEM.
FOR BOOKINGS PLEASE CALL OUR OFFICE!
In order to make sure we have an available disinfected car for you A MINIMUM OF 24 HOURS' NOTICE is required for online bookings. For immediate bookings please call on 01483 77-35-31
---
---
Corporate meetings & events
Quick Airport Transfers
We Cover Special Events
Meet and Greet
Cover all locations from Woking.
Book Online anytime & anywhere.
Get Instant Quote.
Elite Prestige Cars