West End Taxis – Best West End taxi Service & Airport Transfers
Need to book a West End taxi? Then look no further. Pro Cars Woking is the number one way to book a West End taxi online, covering more of Surrey than anyone else. Whether you're in West End and need a taxi to the airport or you're looking for an asap taxi West End, Pro Cars Woking is the taxi booker you need. We will bring you the best taxi West End quote for your journey, and you'll see the price before you book. All the West End minicabs are in one place, just waiting for your click. Enjoy the ride with the best Woking taxis.
Completed West End journey & need more to your destination?
Our team's aim is to satisfy all our clients' needs, which means that we are able and willing to go the extra mile without obligations. Pro Cars Woking is an Award Winning Taxi Company for "Most Trusted Taxi Hire Company Surrey -2020".
Our team of professional and reliable West End taxi drivers is ready to offer you the best. Comprehensive West End taxi services with our modern fleet of vehicles. Our vehicles are fully equipped to offer you the most important qualities that taxi companies can offer: quality, safety and comfort.
Cabs West End

Therefore, you will have the opportunity to embrace and discover different places in the West End without any risks of accidents or other dangers. We will take you wherever you want to go, at the most advantageous prices for taxi West End.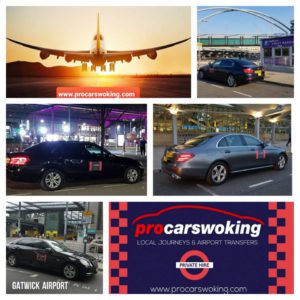 West End Airport Taxi Transfers
If you need a great airport transfer company, Pro Cars Woking is the best choice.
We cover all the main London Airports 24 hours a day, but the most usual journeys are:
Heathrow Airport taxis &
Gatwick Airport transfers.
Also, we can provide other airport transfers as:
–  Luton Airport taxis,
– Stansted Airport taxi service
–Taxi to London.
Providing child seats, helping with luggage, free waiting time and Meet & Greet on request, your journey is 100% smooth and safe with Pro Cars Woking.
Also, our West End taxi payment system is solid and simple. You can pay safe & secure at our Woking taxis company via cash upon completing your journey or via card. Alternatively, you can also pay us directly over the phone or through our online payment system.
Why Choose Us?
Clean cars – valeted daily.
Professional male-female drivers.
Great – honest West End taxi prices
Good local knowledge of the area.
Small & Long Journeys – Airport Transfers.
Polite – friendly and helpful drivers.
Award-Winning Woking taxi company.
Excellent customer service – drivers & phone operators.
24 hours a day – 365 days a year.
Whether you're looking for taxi services through West End or other areas, Pro Cars Woking local taxis is your ideal solution! We are a taxi company near you and will provide you with great services at reasonable prices. For more information on prices and promotions on our West End taxi service please visit our News Page.
See our great taxi West End reviews from satisfied customers on Google, Trustpilot, Tripadvisor, Facebook and much more. Our taxi firm is making a difference with high-quality services at the most reasonable prices. We are improving every day the West end taxi service, and get pride in our job. The final mission for Pro Cars Woking is to have the best customer service and receive the best feedback from our clients. The West End airport taxi transfer is also growing to a bigger level with many business customers as well as casual airport journeys.
Book taxi West end in confidence with Pro Cars Woking!
Call West End office taxi number 24H on 01483 773531!